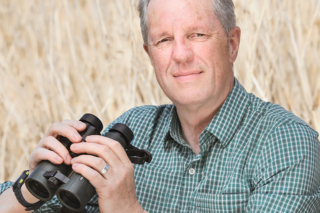 Getting senior birders travelling
Robert was born in 1952 and grew up in the countryside north of London, England. At the age of eleven years he had his first pair of binoculars for Christmas and has been a keen birder ever since.
Robert quit his first career in government service to pursue his passion for nature. A second career in conservation included spells with RSPB and WWF-UK, culminating as the CEO of Thames Rivers Trust. That career took Robert around the world to work on river restoration and wetland creation projects in Europe, China, India, Malaysia, and Colombia. On those travels he was lucky enough to see 1,491 bird species.
After retiring from paid work in 2014, Robert travelled as much as possible to see more birds. His book 'Grey-haired Global Birding' about those travels was published in February 2020 in the Amazon Bookstore. All profits from the book will be donated to the Birdlife International 'Preventing Extinctions Programme'.
Robert's big interest now is how to get more senior birders travelling again to revive the eco-tourism industry on which many bird species rely for survival.
Robert Oates the grey-haired global birder